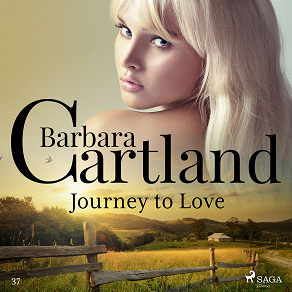 Journey to Love
Shana, the beautiful daughter of Lord Hallam has not yet been a debutante as she has been helping her father write his autobiography.
Although retired from the Foreign Office, Lord Hallam agrees to go abroad leaving his daughter alone in the country.
Before he leaves he asks Shana to run an errand to the landlord of the village inn known as the Rose and Crown, where she finds there is a crisis in the kitchen and offers to cook luncheon for the Marquis of Kilbrooke and his shooting party.
She not only cooks the food, but helps to wait at table and she meets the Marquis who to her surprise is young and very handsome.
Shana returns to the Rose and Crown to cook again for two strangers who turn out to be Italians and overhears, as she speaks Italian fluently, their dastardly plot to rob the Marquis of his extremely valuable collection of gold and silver heirlooms.
She feels it is her duty to warn the Marquis of their plot and in doing so becomes involved in an exciting and dangerous adventure.
How Shana overcomes the perils confronting her and unexpectedly finds love and happiness is told in this unusual and exciting story by BARBARA CARTLAND.
Listen to sample
---