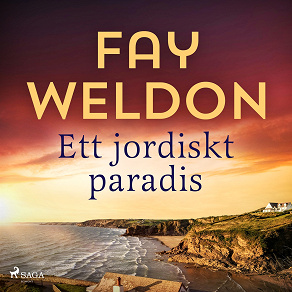 Isbn:
978-87-1179-745-7
Publisher:
Saga Egmont
Category:
Romance
Accessible since:
November 2017
Narrator:
Kerstin Weman Thornell
Length: 9 hours 54 minutes
---
Ett jordiskt paradis
En stor skandal resulterar i att premiärministerns högra hand, den världskände ekonomiprofessorn Julian Darcy, kastas i fängelse. Vad allmänheten inte vet är att det ligger betydligt mer bakom Darcys agerande än någon kunnat tro. Det är hans unga fru, den vilda Eleanor, som viskat ljuva scenarior i makens öra. Hon har en feministisk vision av paradiset på jorden: en plats där pengar inte längre existerar - och där tillvaron präglas av sex, fred och kärlek.

I press och media är den karismatiska Eleanor numera hett villebråd. Alla, precis alla, vill höra vad hon har att säga. Hennes val faller till slut på en exklusiv intervju med journalisterna Hugo Vansitart och Valerie Jones. De är ambitiösa och målmedvetna, men finner det snart omöjligt att stå emot såväl Eleanors idéer som den starka attraktionen till varandra. Kanske är paradiset inte så långt bort som de trott. Kanske finns det till och med på hotellet de bor på...

"Skickligt hanterar Fay Weldon tre parallella skeenden."
– Svenska Dagbladet


Fay Weldon, född 1931, är en prisbelönt engelsk författare och dramatiker från Birmingham. Hon har bl.a. tilldelats den ärofyllda brittiska imperieorden Commander of the Most Excellent Order of the British Empire. Weldon är kanske mest känd för sin populära roman "En hondjävuls liv och lustar" från 1983.
Listen to sample
---