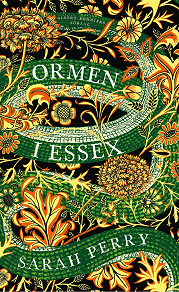 Isbn:
978-91-0017-188-9
Publisher:
Albert Bonniers förlag
Category:
Novels
Accessible since:
November 2017
---
Ormen i Essex
En uppslukande roman som jämförts med Charles Dickens, Bram Stoker och Hilary Mantel och tagit Storbritannien med storm.
London 1893. Cora Seaborne är fortfarande ung men har just blivit änka, och nu förväntar sig omgivningen att hon ska snöra åt korsetten, klä sig i svart och dra sig tillbaka med en knähund i famnen. Men äktenskapet var inte särskilt lyckligt, och rollen som viktoriansk societetsfru passade aldrig den egensinniga och frihetstörstande Cora.
Hon bestämmer sig för att lämna storstaden för landsbygden i Essex, tillsammans med sin socialistiskt orienterade väninna Martha och sin mycket speciella son Francis. De hamnar i den lilla staden Colchester, där rykten om ett mystiskt odjur har skapat masshysteri hos lokalbefolkningen.
Coras teori är att det rör sig om en oupptäckt art som hon är fast besluten att hitta och klassificera. Hon finner en oväntad vän och intellektuell jämlike i traktens präst William Ransome. Tillsammans söker de svaret på gåtan, samtidigt som Will och Cora oundvikligen dras till varandra.
Etta på Sunday Times bästsäljarlista, belönad med det brittiska bokhandelspriset Waterstones Book of the Year och British Book Awards Overall Book of the Year och nominerad till en lång rad priser, däribland Costa Book Award och Baileys Women's Prize for Fiction.
---