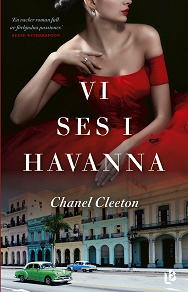 Isbn:
978-91-7799-186-1
Publisher:
Louise Bäckelin Förlag
Category:
Novels
Accessible since:
July 2020
---
Vi ses i Havanna
Utvald till Reese Witherspoon's Book Club.

»En vacker roman full av förbjuden passion, familjehemligheter, mod och uppoffringar.« Reese Witherspoon

Havanna, 1958. Nittonåriga Elizas far äger en sockerplantage och deras familj tillhör gräddan av den kubanska societeten. Eliza har levt avskärmad från de växande politiska oroligheterna i landet, och hennes liv är utstakat på samma sätt som det alltid varit för kvinnor av hennes klass. Men hennes framtid förändras när hon förälskar sig i en passionerad ung revolutionär.
Miami, 2017. Som barn fick frilansskribenten Marisol ofta höra rosenröda berättelser om sin bortgångna mormor Elizas uppväxt på Kuba och om hur deras familj tvingades på flykt av revolutionen. Elizas sista önskan var att Marisol skulle sprida hennes aska i hemlandet.
När Marisol anländer till Havanna slås hon av kontrasterna mellan landets tidlösa tropiska skönhet och det hårda politiska klimatet. Det är ett helt annat land än det Eliza målat upp. Medan hon letar efter en plats att lägga sin mormor till ro på, lär Marisol sig mer om sin familjs historia. Hon faller också för en man, som hon upptäcker lever med farliga hemligheter.

CHANEL CLEETON är uppvuxen i Florida och fick som barn höra berättelser om sin egen familjs flykt från Kuba efter revolutionen. Hon har studerat internationella relationer och har en masterexamen i global politik från London School of Economics and Political Science. Vi ses i Havanna har nått stora framgångar i USA och blivit utvald till Reese Witherspoon s Book Club.
---