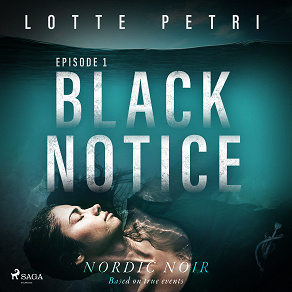 Isbn:
978-87-2632-558-4
Publisher:
Saga Egmont
Category:
Crime & Mystery
Accessible since:
April 2021
Narrator:
Olivia Mace
Length: 1 hour 14 minutes
---
Black Notice: Episode 1
Elegant, trumpet-like lilies, she thought. But there was something off. Something not right. It was the color. It was strange, sort of pale and flesh-colored...

In a sleepy seaside town outside Copenhagen, a strange light at the bottom of the harbor has the police call in a military diver with a speciality in wet crime scenes. Deep down in the dark water sits a car with the dead body of a young woman in the driver's seat. She has a long cut in her lower abdomen.

Copenhagen Police's Felix Jørgensen is on the case, and his new deputy Kathrine Nymark gets thrown in the deep end on her very first day on the job, when it becomes clear that a brutal murderer is on the loose.

On some jagged cliffs off a rural district in the south of Norway, a dog walker finds a partly skeletal corpse wearing a wetsuit. At first, the police assume it's just another drowning incident, but the victim doesn't match any people reported missing and then there's also that suture thread in her abdomen.

Black Notice is a crime story told in five parts. Partly based on actual events, Black Notice tells the thrilling story of the international hunt for a ruthless serial killer.

Lotte Petri is a Danish author of crime fiction. In 2009, her first book was nominated for Danske Bank's Newcomer of the Year Award. Her Selma Eliassen series was lauded by critics, and in 2017, the first book in the series starring bone expert Josefine Jespersen, "The Devil's Work", was released.
Listen to sample
---