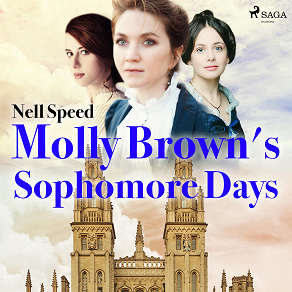 Isbn:
978-87-2647-301-8
Publisher:
Saga Egmont
Category:
12 -15 years
Children's books
Accessible since:
October 2021
Narrator:
Debbie R. Baker Robinson
Length: 4 hours 46 minutes
---
Molly Brown's Sophomore Days
In 'Molly Brown's Sophomore Days' we are reunited with our heroine Molly Brown, as she returns for her second year of college at Wellington. Her return to college is marred by the very real possibility of poverty, due to a failed investment. Will Molly have to move, get a job, or even leave her education altogether? First published in 1912, this is a delightful novel from American author Nell Speed, which makes clear the importance of strong friendships.

Nell Speed (1878-1913) was an American children's book author from Louisville, Kentucky. She is best-known for the 'Molly Brown' series of books, which followed the central character of Molly Brown through her education, describing her exploits and adventures with friends. Though Nell Speed wrote the first four of the novels in the series, she was extremely ill with cancer. She persuaded her sister Emma Speed Sampson to finish the series following her premature death, which Emma dutifully did, continuing the series under her sister's name. She went on to write an array of children's books under her own name too.
Listen to sample
---