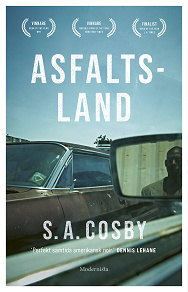 Isbn:
978-91-8023-160-2
Publisher:
Modernista
Category:
Crime & Mystery
Accessible since:
October 2021
---
Asfaltsland
Vald till Årets thriller på Amazon & en av Årets bästa kriminalromaner av bland annat The Guardian & CrimeReads!
»Ljuvligt välskriven. Jag säger bara: läs den!« Titti Schultz, Go kväll, SVT
»En av de mest gripande spänningsromaner jag läst i år.« Malin Persson Giolito, Vi läser  
»Blytung action i en underbart välskriven spänningsroman.« Pernilla Ericson tipsar i Aftonbladet Weekend
Beauregard »Bug« Montage är numera en hederlig mekaniker, kärleksfull make och hårt arbetande far. Och han vet att det inte finns någon framtid för den han brukade vara: den amerikanska östkustens bästa flyktchaufför.
Men när Bugs omsorgsfullt uppbyggda nya liv börjar gå i spillror dras han obönhörligt tillbaka. När en tidigare partner hör av sig om en juvelstöld drivs han till att än en gång sätta sig i förarsätet.
Hemsökt av den man han en gång var måste Bug nu hitta ett nytt sätt att navigera i detta asfaltsland. Eller dö medan han försöker.
I svensk översättning av Ylva Spångberg.
S. A. COSBY är en amerikansk, flerfaldigt prisbelönt författare från sydöstra Virginia. Asfaltsland är en episk berättelse om en man pressad till gränsen av fattigdom, hudfärg och hans eget före detta kriminella liv. Romanen har hyllats av kritikerna och bland annat utsetts till en av Årets bästa kriminalromaner i The Guardian, Årets thriller på Amazon och en New York Times Notable Book of the Year.
»Hårdkokt så det osar bränt!« Samuel Karlsson, författare
»En tät, gripande kriminalroman & en drabbande historia om en man som slits mellan två världar.« Maria Näslund, Göteborgs-Posten
»En originell noir-roman i högt tempo som skär sig fram genom Virginias mörka undersida.« New York Times
---