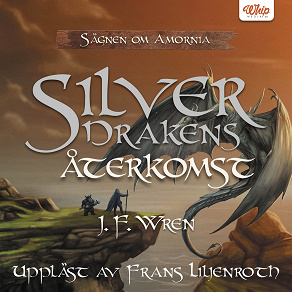 Silverdrakens återkomst
Med en känsla av déjà vu packade Agnes ner sina saker. Återigen skulle hon bo hos sin farmor i Hova.
Hon greppade den fullpackade väskan och började gå nedför trappan. Tankarna for genom hennes huvud. Det var som om något saknades, något hon borde komma ihåg. Något otäckt svart. Men hon kunde för sitt liv inte minnas vad.
Högst upp i tornet på den minsta av öarna som bildade Samloqerna satt mannen som höll vakt denna natt. Han spanade upp mot den stjärnklara himlen genom gluggen som var tornets enda fönster och där, där var något. En stor svart skugga gled förbi och skymde ljuset.Predikarenrös till. I nästa stund var han nära att falla ut ur tornet. Varelsen högt ovanför honom hade vridit sig så att han nu tydligtkunde se ett par enorma vingar. Ur näsborrarna välde sotsvart rök fram. 
Naz-Halham fick inte orden som sierskan förmedlat ur sitt sinne. "Tiden är kommen då jag, Moros, ska resa mig, bryta mina bojor. Jag ålägger dig nu att alliera dig med folket från havet, deras ankomst till Amornia har varit förutsagd innan mina systrar och bröder satte dessa fängsel runt min person. 
Silverdrakens återkomst är den tredje delen i Sägnen om Amornia. De två första böckerna i serien – Stenbrons hemlighetoch Den röda spiran –har blivit uppskattade av såväl läsare som kritiker. "En klassisk portalfantasy som brinner av berättarglädje och mystik, spänning och karaktärer att älska" är ett av många omdömen som skrivits.
De två första böckerna är översatta till engelska och finns utgivna i över hundra länder: The secret of the stone bridge och The crimson sceptre.
Listen to sample
---