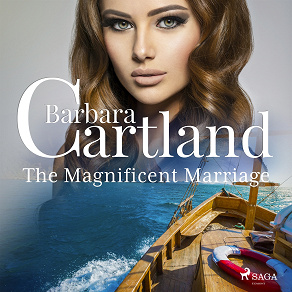 Isbn:
978-87-2829-377-5
Publisher:
Saga Egmont
Category:
Novels
Historic facsimile
Romance
Accessible since:
May 2022
Narrator:
George Weightman
Length: 5 hours 37 minutes
---
The Magnificent Marriage
A social introvert, Lady Dorinda Burne has always felt uncomfortable around lots of people due to a skin condition which has always marked her as the 'ugly sister'. She is forced on a trip to Singapore to chaperone her sister Lettice, who is set to marry the intelligent and charming Maximus Kirby.

However, Dorinda soon finds herself head over heels for Maximus. lost for words when he's around. Having to overcome drastic hurdles and more challenges than she could have anticipated, Dorinda is forced to face her fears to find a new life, better than she could ever have hoped for.

Perfect for fans of Georgette Heyer, Julia Quinn, and Jenny Hambly.

In her lifetime, British author Barbara Cartland wrote over 700 novels and was most famous for her contemporary and historical romances. A prominent figure in London society, the young Cartland began her writing career as a gossip columnist for the Daily Express. It was partying in 1920's London that gave her inspiration for her first book, 'Jigsaw', a racy society thriller.

After marrying into the McCorquodale family, she began writing romance and holds a Guinness World Record for the most number of books published in one year: 191. Her books have been translated into many different languages, as well as adapted for stage and screen. She is beloved the world over and even counts the young Princess Diana as one of her many fans.
Listen to sample
---