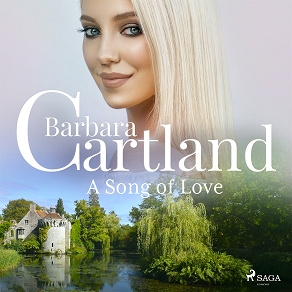 Isbn:
978-87-2835-305-9
Publisher:
Saga Egmont
Category:
Novels
Historic facsimile
Romance
Accessible since:
May 2022
Narrator:
Sophie Roberts
Length: 4 hours 29 minutes
---
A Song of Love
Love, true Love! For the lovely, widowed Lady Sherington, it bloomed in her thirty-sixth year, when she was still ravishing enough to pass as the twin of her daughter Trina.

But her gentle heart is racked with doubt--for if she were to remarry, her inheritance would be lost, and the handsome Comte she wishes to wed needs a rich wife.

Thankfully, she's blessed with a daughter who is both beautiful and smart and fight to solve all their problems. But will she save her late father's estate and her mother's heart... or must one be lost for the sake of the other?

A cross-generation regency romance, perfect for fans of Georgette Heyer, Julia Quinn, and Daphne Du Maurier.

In her lifetime, British author Barbara Cartland wrote over 700 novels and was most famous for her contemporary and historical romances. A prominent figure in London society, the young Cartland began her writing career as a gossip columnist for the Daily Express. It was partying in 1920's London that gave her inspiration for her first book, 'Jigsaw', a racy society thriller.

After marrying into the McCorquodale family, she began writing romance and holds a Guinness World Record for the most number of books published in one year: 191. Her books have been translated into many different languages, as well as adapted for stage and screen. She is beloved the world over and even counts the young Princess Diana as one of her many fans.
Listen to sample
---