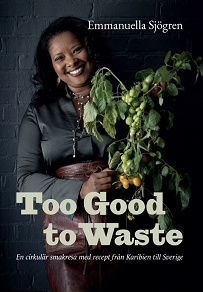 Too good to waste : en cirkulär smakresa med recept från Karibien till Sverige
Too good to waste är boken som hjälper dig att tänka cirkulärt i ditt kök genom att medvetet planera hur du tar till vara all mat du handlar. På så sätt är risken mindre att maten glöms bort och du slipper kylskåpsrensningsmiddagen, som i ärlighetens namn sällan är veckans höjdpunkt.
I boken finner du bland annat smarta kreativa menyer som låter dig trolla fram flera underbara måltider av en bas. Du får inspiration till såväl vardagsmat som festmiddagar samt praktiska tips om hur du kan använda dig av varje smula. Som ett exempel kan en bas av långkokt fläskkarré med karibiska kryddor enkelt förvandlas till asiatiska ramennudlar med enbart några få extra ingredienser som du med hjälp av boken redan planerat för. Varje maträtt kan så klart lagas för sig och bjuder på en ny smakupplevelse.
Too good to waste bjuder på en spännande smakresa med recept från jordens alla hörn, inte minst från Haiti där författaren Emmanuella Sjögren är född.
Food is too good to waste!
---